When I moved to Scotland in 2006 one of the first people I met was the wife of the local Anglican minister in Aberdeen.  Soon after this first meeting, she invited me to a gathering at the church.  A Town Hall assembly was forming to discuss a strategy for how the Christian community could learn to live in harmony with the Muslim one.  It was an open forum moderated by her husband, the minister.
The chairs were arranged in a large circle to maintain a sense of equanimity even though the Muslim women in attendance all sat together on one side of the circle.
I remember only one thing that was said during this meeting and that was when a Scots woman stood and asked the question:  "Why do you (referring to the Muslim women) never smile at us when we see each other at the market?  You look as if you hate us."
The Muslim women clearly wanted to burst into peals of laughter but tempered their reaction and chuckled instead.  It was difficult to understand exactly what they were laughing at until one of the women stood and said, "We think you don't smile at us and that you hate us."
There was some protesting from the Scots women when one of the Muslim women said, "Come to my house.  I invite all of the women here today to come to my house and we, my sisters and I, will prepare for you a dinner and an evening of entertainment."
About twenty Scots women appeared on the doorstep of this modest, but modern, clean house in the suburbs of Aberdeen on a Tuesday night to a hearty and warm welcome.  The Muslim women had been cooking in their own homes for days and as we appeared so did the food in quantity.  We all came through the door as if we'd been meeting like this for years.
The sitting room was small and tastefully decorated.  Off to the side was the more expansive addition of the sun room.  Here, the hostesses had set up tables for dinner.  Each table was draped in cloth with different sets of china, crystal and silver.  My assumption was the women consolidated their households to produce such an elegant affair for us.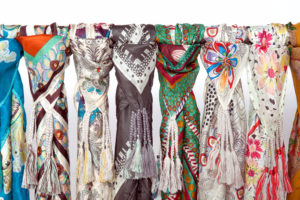 When dinner was called, we collected our plates and in a single queue made our way through the bounty of food displayed on the buffet.  We talked for over an hour as we took part in this tremendous feast.  Then the evening turned to song and poetry.  The Muslim women read to us from Rumi, from the Quran, they sang and they danced.
I will never forget the hospitality and the intelligence of these Muslim women from Aberdeen.  They trusted us enough to share what they valued most:  their home, their food and their faith.
Women from different faiths gathering together to break bread and to sing.
*No Comment is featured on EuroNews in the form of a video clip which communicates in only images with no commentary.  They are typically segments highlighting a current event.
However, because this is my blog I would like insert a comment.  I would like to repeat something I heard in a lecture some years ago.  A Muslim woman was describing her head scarf.  She pulled it off her head and draped it around her shoulders and she said the western world will call this fashion.  She pulled it up to cover her head and said the western world will call this a threat.