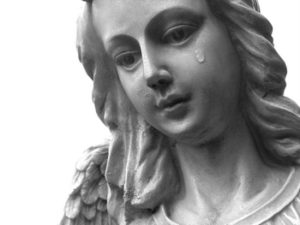 Man's soul is a complicated thing and it takes sometimes half a lifetime to get somewhere in one's psychological development. You know it is by no means always a matter of psychotherapy or treatment of neurosis.  It is also that psychology has the aspect of a pedagogical method, in the widest sense of the word.  It is something like antique philosophy and not what we understand by a technique. It is something that touches upon the whole of man and which challenges also the whole of man.  Carl Gustav Jung
We cannot change anything unless we accept it.
What happened in Las Vegas has already happened in Orlando.  It's happened in Connecticut, it's happened in Berlin, in Paris, in the UK, in Nice, etc. etc. etc.* There is no longer a profile that fits evil.  One may delude themselves into thinking it is a refugee problem or a Muslim problem or a gun control problem or a poverty problem and if we can just "fix" this, then our world will magically emerge harmonious.  But the world has never been harmonious.  It has always been a violent and dangerous place to live.  I admit that in recent years more dangerous because there are fewer places to hide and those with intent to kill find it much easier today with the help of modern technology.
Let me explain here:  hiding and technology.  Hiding first.
In days gone by, but as recently as my youth, people could hide behind the labels, rich, white and Christian and get away without truly understanding that black people all over America were suffering, in spite of the Civil Rights Movement.  My high school was not integrated, for example, until 1969 and even then I remember well our drama club heading up through rural Texas and the Dairy Queen refusing service because black students were at the table.  I remember a story told in our family about the young daughter of a black maid who showed great talent at the piano but would need lessons to become competition worthy and so the maid asked the mistress of the house who was white, rich and Christian if she could help with the lessons and she promptly refused justifying it as a waste of money because black people wouldn't amount to anything anyway.  So we thought we were safe in this position of superiority…and we were, for a while.  We soothed ourselves by thinking we were somehow better than others to have been born into such bounty, that we were different than "them".  We hid ourselves in other cunning ways as well.  We hid abortion.  Young women who got pregnant in the fifties had to go the "local butcher" to rid their pregnancy and many were left unable to have children after such a brutal ordeal and some even died during the process.
In ancient times, I calculate the guess that we hid behind the church and its dogma or the royal families while all kinds of injustices and economic instability for most others prevailed. For the "thems" of the world.
But our systems are crumbling and we find it harder and harder to hide.  I suppose we can still hide behind security systems and if you're particularly wealthy you can hide in gated communities but then, if you want to attend a night club or an outdoor music concert or go to the Berlin Christmas market, or pick up your children from school, then you might find yourself exposed.
Henryk Skolimowski, the creator of Eco-Philosophy, said plainly in his book The Dawn of Ecological Era, "Our institutions do not work because our souls do not work.  Our spiritual blight affects our individual lives and our institutions alike.  Let us state clearly.   We cannot have good political institutions if our visions are cripplingly narrow and our wisdom lamentably limited.  Thus the road to good political and social institutions is by deepening our wisdom and by broadening our visions; which is to say by enlarging our souls.  This is the only way, there is no other way."
So, technology.  Technology offers all of us something faster, such as the internet and plane travel.  I can access information quickly and fly half way across the world in less than a day.  Weapons with great power are accessible and organisations whose agenda is to harm are equally as accessible with the aid of the internet.
But guns are not evil.  The internet is not evil.  Technology is not evil.  Plane travel is not evil.
We cannot change anything unless we accept it.  We must first change ourselves before we see the change in the world we seek.
Over four decades ago, Carl Jung said that the real danger is man's psyche and as far as I can see few have taken him seriously.  As time passes, even fewer will remember who he was.  I realise that what I'm affirming here is unpopular or somehow falls into the category of new age thinking, new age in its most stereotypical form of an assertion without substance, but if one actually considers what he meant, studies the definition of collective, then we must put into practice what sages and mystics and philosophers have decreed for centuries:  We must know ourselves.
The man that killed over fifty innocent people and injured over 500 in Las Vegas is part of us; he is part of what Carl Jung called the collective.  To understand what happened that night and on all the other nights that struck terror in the hearts and bodies of those murdered and injured and all the ones to come, we must look at ourselves first before we can look at policy and political change.
Is your personal house in order?  Are you in harmony with the ones who live the closest to you, your siblings, your children, your parents, your spouse?  If not, then what work must be done to bring awareness to these social problems?
I am driven mad by those who talk about love and kindness and peace when if you look at their home life, it's in shambles.  Especially those who purport to be "Christians" yet can't bring themselves to forgive.  This one is not speaking to that one and that one is not speaking to this one which impacts who actually shows up to the "dinner table" so to speak.  We avoid these difficult confrontations; we hide and post on social media how sunny and bright our lives when in fact we are suffering terribly.  Hiding through technology now, the social media pages, another system that is banal at best.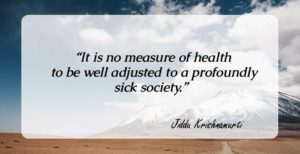 In the lesser known library of Krishnamurti, Renee Weber interviewed him in a book called Dialogues with Scientists and Sages:  The Search for Unity in which it's written:
"Several times, he shifts from the theme of suffering back to the book and its contents.  I had… brought up the Big Bang, and…on this Krishnamurti now pounces.  What's the point of talking about the Big Bang, he asks me, when the world is in flames, when people are crying, when man is indescribably cruel to his fellows?  These things are facts, he says repeatedly, the other is a luxury".
Indeed, what is the point of talking about the big bang when the world is in flames?  What is the point of pretending we are happy and all is well when inside we're broken, frightened and confused?  Why are we so inherently resistant to looking at ourselves in the cold light of day?  To looking at what is not so sunny and bright and cheerful about ourselves.  Why do we run away from what is dark about us, what we'd rather not anyone else know about, why we can't forgive, why we're so judgmental, xenophobic and critical?
If we ask these questions of ourselves, and if we're not afraid to look at ourselves, piece by piece, then we can perhaps begin to better understand the heart of man.  That each of these small, violent, aggressive thoughts, we have about ourselves and about others mounts in the collective and produces horrific events such as the ones referenced here.
Change the one and you change the world.  Thank you, Krishnamurti!
*On October 1, 2017, a gunman took the lives of 58 and injured nearly 500 more in Las Vegas, Nevada.  On June 12, 2016, a gunman killed 49 people and injured 58 others in a nightclub in Orlando, Florida.  On December 14, 2012, a gunman fatally shot 20 children, six adults and his mother in Connecticut.  On December 19, 2016, a man drove a truck into the crowds at the Berlin Christmas market killing 12 and injuring 56.  On Friday, December 13, 2015, a series of coordinated attacks in Paris left 137 dead and 413 injured.  On May 22, 2017, 22 concert goers were killed at Manchester Arena by suicide bombing, leaving 250 injured.  On July 14, 2016, Bastille Day in Nice, a man drove a truck into the crowds killing 86 and injuring 458.