God and Goddess can no longer be projected.  They are inner experiences through which we discover ourselves, nature, relationships, and the imperial moments that are gifts we cannot understand.  Soul-making goes on in the body. 
To Be a Woman:  The Birth of the Conscious Feminine ed. by Connie Zweig (Marion Woodman, Contributor)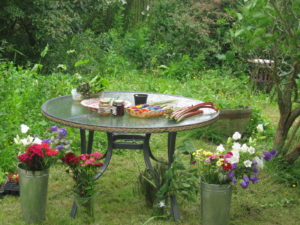 Gus Parker wasn't always strong.  "Being strong doesn't come naturally," she'd say.  "Being strong is a will.  Being strong is a choice.  It's something one must learn.  Left up to me, I'd rather stay in bed."
"You're too young to know or understand anything about Nietzsche's will to power, but for your sake I hope you do someday."
I was only ten but struck by the way she spoke to me as if I were her peer. Of course, I had no idea what she was talking about at the time, though she certainly intrigued me.
Since then, she's repeated these sentiments time and again.
"Read James Hillman's, Force of Character", she'd laugh. "Your grandfather especially liked it.  Gave him permission to endlessly repeat himself."
She suffered great trials in her lifetime, not in the least the threat to her marriage.  (This chapter in her life has come as a complete surprise to me as my grandparents were among the happiest people I knew.  I thought they were always this way.)
I found these letters and pages from her diary carefully tucked inside a copy of The Egyptian Book of the Dead.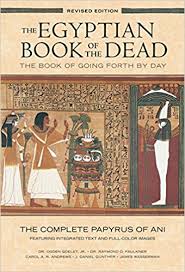 * * * * * * * *
June, 2010 (Diary Entry)
Dear Marek,
Something is wrong.  When did this malady of the spirit, this ennui settle upon us like a millstone about the neck?  We could drown blind, you know. What harm have we caused to endure such anguish in our marriage? Do you feel it too?  Or is it just me?
What are we going to do?
We're living separate lives. I mean it's pleasant enough. We share our meals together, sometimes discussing each other's projects, mostly discussing news and weather. We have cocktails in the evening and either listen to music or watch a film. We're living like royalty must have lived a few hundred years ago.  What a luxury.  Most couples would dream of such a marriage but there's no intimacy and I don't mean sex, either.  I mean trust and intimacy.
I'm not new at this.  Relationships.  I'm not expecting my heart to flutter or my hands tremble when you walk into the room.  My God, at my age, I'd think I was having a heart attack or stroke.
It's just that the days pass without enthusiasm, without discovery. Is it just me?
The end of my dream last night concerned me.
At a table sharing food with Marek. We were at the head of the table, I on his right and a beautiful young woman to his left. At the opposite end of the table was a man with a horse's head.  The man with the horse's head reached over to the young girl and placed her in handcuffs.  She looked surprised, even shocked but then the cuffs turned into pink, silk ribbons that gently fell to the floor and the man with the horse's head, sighed.  "I'm sorry I did that. I'm just so lonely."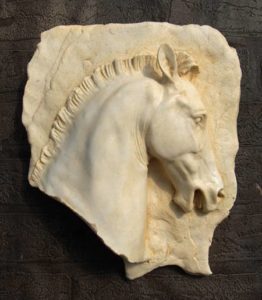 * * * * * * * *
July, 2010
I waited several weeks before I gave him the letter at breakfast yesterday morning.  Of course, we had a knock down drag out.  Not at first.  It started at a simmer before it went to the boil.  He thought I was being self-indulgent.  "What's wrong with our lives?" he barked.  "You're provided for, you're free to travel, and your health is good, what are you complaining about?"
Indeed, he was right.  What the hell was wrong with me that I was complaining?  Half the population lives in acute anxiety brought on by war, starvation, the daily struggle to make ends meet, drug abuse, depression.  Good Lord the list is endless.  I live on a farm in the Central Highlands in Scotland.  I can choose to do exactly what I want with my days.  So, he's right!  What the hell is wrong with me?  Millions would give anything for my life and so it would seem I'm spoiled rotten, corrupted, pitifully asking for more but I argued this is the wrong question; certainly, the wrong approach to what I was sensing and yet couldn't express.
I had to stay with my feelings.  I had to honor the instinct within me to know that perhaps there were rough waters ahead.  Perhaps these still waters were about to turn turbulent, thrusting us into a cold marriage from which we'd have to eventually extricate ourselves.  But what if by that time we'd grown unaware of the predictability of our lives, storing the sugar in only one place, having sex once a week, pouring a whisky at the same hour each day, eating the same breakfast cereal and so forth.  Our lives were growing smaller and smaller and while the world suffers from practical matters from which I've been graciously spared (at least for the moment) I must fight like hell to muscle my way into a bigger life.
And I'd like to take my husband with me, if possible.
So, I proposed something that I'm sure he thought was completely outrageous which I suppose it was but he agreed and thus began the exchange of letters between Nebetta and Leikos.
For you see, I had to know why the man in the horse's head was so lonely.
Marek is lovely in this way.  He appreciates dreams and poetry and romance.  In fact, he might have been longing too and didn't know it.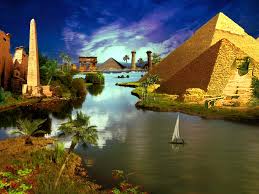 We created two characters called Nebetta and Leikos.  They lived in ancient Egypt and they wrote letters to each other.
First Letter from Nebetta to Leikos
Kind Sir,
Clever and brave that you so adeptly determine my house upon a chance meeting in the marketplace.  I am intrigued by your message as from its contents I conclude it was not my servant who took your pleasure, but myself.  How unlucky for you that I am in service to my father and must keep care of my dear mother who suffers greatly from his absence.  We are a household of women when he is away, except for our faithful scribe who pens this letter to you.  My respects to you on your stay in Alexandria.
Nebetta, from the house of my father Sheseskaf (Holy of Soul).
First Letter from Leikos to Nebetta
To Nebetta, of the house of Sheseskaf
Kind Nebetta,
Your letter brought to me much joy to hear your voice, and sorrow to learn of your bondage.  I am at present the guest of our King, may he live forever, and live at the Royal Court. The King has asked me to draw up new tables to predict the occurrence of the tides, work that involves me for all the day's hours.
I desire only your simple friendship, as a companion and guide. I am exiled in an unfamiliar land where I do not speak the native language nor understand the customs. Though the work is interesting, I think back often to my homeland, my father and mother who now live alone.
In ten days, as you must know, our King celebrates his accession with a great procession in honour of Dionysius. They say that there will be twenty-four chariots, each drawn by five elephants, chariots drawn by antelopes, zebras and lions. I would be greatly honoured if you and your mother could join me in the royal pavilion inside the citadel. I would introduce you to my friend, the celebrated poet, Callimachus, also the curator of the great library, and many other great people from foreign lands.
With greatest respect,
Leikos of Macedonia.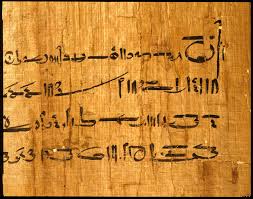 Second Letter from Nebetta to Leikos
Leikos of Macedonia, guest of the Royal Court
Dear Friend,
What good news comes to the house of my father in an invitation to the Royal Court.
My mother who is Neith and myself and two servants with great delight accept your magnanimous summons to the Palace of our King, may he live forever and be always favoured by our beloved Osiris.
We will expect an escort from the Court on the day of the procession as my father is away and cannot companion us.
My heart is full with anticipation, dear Leikos as I do not often have the pleasure either of practicing my Greek or to participate in such conversations of poetics and science unless my father is at home.
From our garden we send figs, dates, flowers and eggs to the Royal Family and their guests.  To you I send along these two amulets, one hand and one foot of carnelian the colour of blood to protect your body while away from home, to also encourage creativity and quickness of mind.  And one cat, made of blue tourmaline, to balance the heart, to awaken it so that it might hear.
Until the festival, these ten days sit like stone in my heart.
Nebetta, House of Sheseskaf
Second Letter from Leikos to Nebetta
To Nebetta, of the house of Sheseskaf
Kind Nebetta,
Your gift of the amulets stirred my heart deeply. I held them for a full hour, pondered their significance, and the person who sent them. They lie on my table beside me while I write to you. The cat's wise eyes appear to ask many questions for which I have no answers.
I was overjoyed to hear that you and your mother will be my guests at the coming festivities. On that day, soon after sunrise, my servant Nakhti will call at your house to escort you to our pavilion. I look forward to looking at your eyes again.
Some in my house told me that you are wise in understanding dreams, that many people come to you and relate their dreams.  I ask you kindly to read my account of a dream that troubled my sleep soon after landing in Alexandria. I have told the dream to many, but none were able to explain it.
Though I am unmarried, in that dream I was married to a beautiful woman. Two snakes enter her house; one bites and carries her off to the place of death.  As in the story of Orpheus, I must descend to the lower worlds to bring back my Eurydice. The second snake transforms into my guide, a man as black as a Nubian. He tells me that I must find the second snake, alike to himself but who belongs to the lower world. I must persuade him to return my wife. Our journey takes us across many desolate fields in a land of many shadows. While we walk, I ask my supernatural guide how to persuade the serpent to release my wife when I do not have the musical gift of Orpheus? After a long silence he says, that I must offer the serpent the gift of life. If the gods will not co-operate and return my wife, our only option is to un-krater them. What "un-krater" means, he does not explain. We enter the realm of the gods, a cave that resembles the Oracle's crypt in Delhi. In the walls are engraved ancient images of the gods, faded and barely discernible. Several sit proudly on their thrones. The serpent appears from a deep cleft, transforms into an erect male member, then into the form of a Pharaoh on his throne, human but also lifeless as stone. I offer him life, if he would release my wife. Unmoved he replies that what I ask for is for the Great Mystery to be revealed. I tell him, "Then let the mystery be told to all." He refuses. Let men remain in darkness! The mystery is too great to be revealed to them. What follows is the un-kratering. The cushions upon which the stone gods rest are pulled away. Slowly the statues fall over, grin horribly and then their heads are crushed on the stone floor.
When I awoke, in great consternation, my first thought was that I had witnessed the death of gods who had refused to nourish humankind, were indifferent to human suffering.
I look forward to speaking with you about the meaning of this dream. I would also gladly learn more of your father, and of the business that detains him abroad.
Until that day, may the sun bless your labours,
Leikos of Macedonia
Leikos of Macedonia, guest of the Royal Court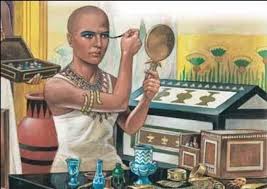 Third Letter from Nebetta to Leikos
Leikos of Macedonia, guest of the Royal Court
Dear Leikos, one so close to my heart,
My mother was well for days after this most grand procession and I must admit myself dazzled still from the lavish display of carts lumbering through the streets of Alexandria.  The statues of the Gods, Dionysus and Osiris in particular were something to behold.  The singers reciting hymns, the actors at play and the athletes in competition, the colossal wine press, the smell of incense was more gifts bestowed from our precious divine than we could hardly absorb in one day.   How grateful I am to our most admired King and to Isis who inspires him for this time on earth I have been able to spend with you and Callimachus, quite modern in is thinking erudite and self assured.    If my father had only been born a poet and not fated a general, then perhaps he would have enjoyed the company of distinguished men such as yourselves but he is away and the last news we received, at the Battle of Andros.
Leikos, I had no time before the festival to answer the letter about your dream and to have discussed this sacred material in the presence of so many would not have well represented the house of Sheseskaf.  I do hope you understood then when I mentioned the subject at the table in such enigmatic terms that I would soon respond.  It was intended to sound puzzling to everyone but you.
If possible, soon, you must come to my home where we can discuss more of these matters of soul, in the courtyard, before the weather turns cold and we are forced to smaller rooms in the house.
This dream is dense and full of symbols and mystery and I am not a priestess but as I have some practice in the world of dreams let me offer these thoughts, may the ink on this papyrus dry in the name of Isis.
Wadjet is an ancient serpent goddess and often paired with her sister Nekhbet who has in modern times taken on the head of a vulture but who might have originally had the head of a cobra.  Both goddesses offer protection to the Pharaoh.  That you were summoned to the underworld to save your wife is a common theme calling upon you to risk all in the name of love as you must turn your back on the world of the living and travel to the land of the dead for they have much to teach us, dear Leikos.
I think of the words consecrate and desecrate when I read the "un-kratering" in your dream.  Here we have again the theme of the twin or the opposites.  You say you offer your life in exchange for your wife but you are truly asking to know the mystery and we can never know the mystery as humans.  As well, your portrayal of the gods is one of suspicion and distrust and I say to you that the divine is in us and we are in the divine and this is the relationship of the opposites.  The divine and the human can either exist in harmony or the soul of the human can torment itself until it is destroyed.
Perhaps we could take the dream into the Temple of Dreams and together, in silence, reflect upon it and more will be revealed.  That you woke in such distress is upsetting, that you feel the gods do not nourish humankind or are indifferent to our suffering is foreign to me as I worship the gods and every movement in this life prepares me for my next.
We must not expect more from the gods than we are willing to give ourselves, dearest.  The thin layer that divides us, the divine and the human, suffers on either side, neither completely reaching the other.
Do come to the courtyard of my home for a meal and we will talk endlessly under the warmth of the sun.  Until I see you again, I will think of nothing but your gentle spirit and your questioning soul.
Nebetta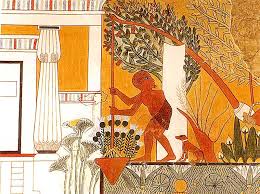 Third Letter from Leikos to Nebetta
To Nebetta, of the house of Sheseskaf
Kind Nebetta,
I find myself thinking of you while I work in the library, and at night when I place my head on a pillow. I recall every word we spoke while we watched the procession. To be truthful I saw little of elephants or lions for I watched mostly you and your dear mother. Though I was most pleased for our king, the great spectacle did not impress me. More pleasing was to share a few hours with you. I thank you for your invitation to visit you. Look for me at sunset in two days.
Your explanation of my dream gives me much to ponder. I am not versed in Egyptian gods, and they do not have great meaning for me. I am astounded by your words, that those gods visited me by night to command my attention. As a philosopher and skeptic I find this difficult to accept.  What is a dream and why does it have the power to unseat the rational mind? Years ago I asked the question in the Academy, but the teachers were not interested. They held that dreams emanated from confused humors, and had nothing to teach us, an assertion that leaves me unsatisfied. I would like to discuss this with you, in your house or in the Temple of Dreams.
I would also hear more of your mother's story. Her face tells a story of long trials. Looking at her strong features, I am reminded of many women in the Royal Court. Indeed, they could be her distant sisters.
I send you a short poem that came to me this morning.
Before Dawn
In the hour when the night is darkest
And the soul, farthest from the body
Awaits the arising of Apollo
So do I long for the splendour of your body.
For the light of your eyes to shine on my road.
As the light of Pharos guides ships to port.
Safely moored, I will disembark and take
A new road with you, which neither of us can know
Until our own feet tread it.
Until our meeting, I remain,
Leikos of Macedonia
Leikos of Macedonia, guest of the Royal Court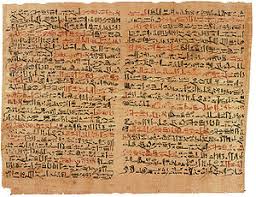 Fourth Letter from Nebetta to Leikos
Leikos of Macedonia, guest of the Royal Court
That you consider me in this way, with such affection dear Leikos forsakes my concentration.  I cannot eat but a few mouthfuls before I retreat to the garden and gaze upon the flowers there.  I wake in the night to the stars overhead and can think of nothing but you until sunrise.  That I must wait until sunset on the second day before I hear your voice again is torture to me.  Until then, I will perfume myself.  I will oil my hair and set upon my neck my most precious jewels.  I am overcome.  I can hardly contain my breath.
My soul navigates its way to you, across the terrain of what is unseen by the rational mind, what we cannot grasp.  Here amidst the heavens where the gods dwell, let there be no division between our bodies.
I will look for you at sunset and have ready wild game and figs, breads and wine.  We will talk about dreams and other mysteries.
So perhaps to consider until we can speak at leisure not all that is real can be seen by the eye or understood by the mind in its undeveloped state as something incomplete cannot be perceived otherwise.
And polemics is not the tool used by the priestess in seeking relationship to what is greater than ourselves.  She depends on the secrets that lie within the chambers of the heart.
Sunset on the second day will seem an eternity.  I am sending seeds for the Royal Garden and the soap in my bath; I have broken off a piece for you to smell.
Nebetta of the house of Sheseskaf
* * * * * * * * * * *
This is what I found in her book but I'll be searching for the others, assuming there are more.
I'm including a poem she wrote before she married.  Is this what she was trying to make her way back to through the letters of Nebetta and Leikos?  Was she looking for that burst of creativity that sometimes get lost in the domestic? But sometimes, also gets found there.
* * * * * * * * * * *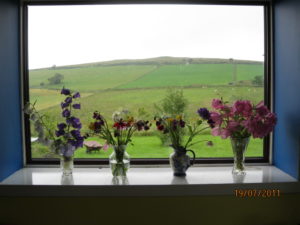 Jung said, "I don't know why the body needs salt, I just know it does."
(Poem for Marek – Before We Married)
On the Bus One Morning
It is not in the ordinary
The toast at breakfast
The marmalade spread thick
The coffee poured
Or the morning paper
That conjoins their spirits one
For still the bed must be made
The work shirt ironed
The table cleared to make way for the night
The lunches packed.
This is the ordinary in the day.
The ordinary by which their bodies steer
Left to right.  Side to side.
The irksome traffic
The unpaid bills
The daily schedules yet sorted out
The misunderstandings
The hurt in the ordinary
Is where their bodies dwell.
But this is not what conjoins their spirits one.
For that, one must look to the dark side of the moon
Alongside the Pleiades
Straight up Mars.
Upon that star is heard the lovers chant.
Upon that star, these souls inhabit.
In that place of disinterest to most
Forgotten to all
The tear in the fabric
Where the landscape has no need for words
Or anything of the ordinary
Here is where these lovers mate
Where their spirits dance
Where they conjoin as one.
Look up one day, straight up Mars
Alongside the Pleiades
Through the portal of the ordinary day
While taking out the trash.
Behind the dark side of the moon
They are known to feast upon each other's love
And if you look real close on a hectic day
Between car pool line and Sunday pot roast
You might glimpse these lovers there
You might glimpse them in the way he takes her hand.